VOORTMAN BAKERY
Intelligent Software Solutions
proven through real world experience
by experienced software professionals
Voortman Bakery
PHD Solutions worked with Voortman Bakery to develop an advanced system that greatly improved the efficiency of their product distribution.
Voortman Bakery products, baked at the company's sole production facility in Burlington, Ontario where over 400 workers are employed, can be found in nearly all major grocery and supermarkets across North America. Their products are sold through over 500 independent distributors across North America, who are each responsible for ensuring the right Voortman products are lining the retailer's shelves at all times.
Their distribution model required a sophisticated mobile solution to ensure seamless ordering, including:
Handling of product orders

Handling of product sales and returns

Providing visibility into historical sales trends, product pricing and financial positions

Tracking of all financial transactions

Tracking of product inventory, including current stock levels, inflows and outflows

Printing receipts, invoices and other reports in real-time to a wireless thermal printer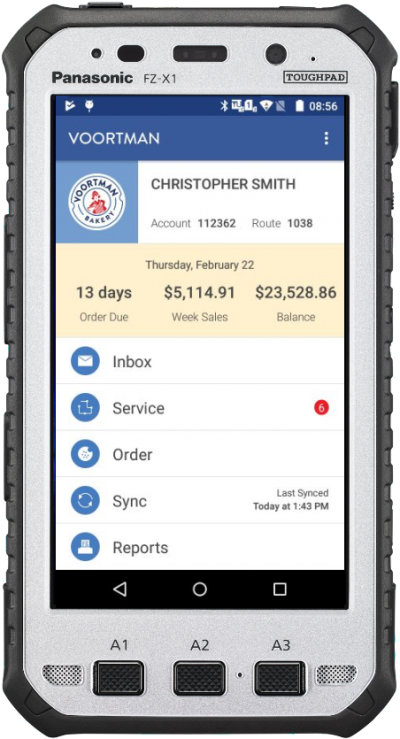 With razor thin margins, we needed razor sharp software partners
PHD delivered everything they said they would
We partnered closely with PHD Solutions to design and develop our innovative and industry leading software that supports our entire operations. They have delivered an excellent, robust, and stable platform used daily by hundreds of our employees and clients.
When we needed a solution to help be first to market with our product – PHD Solutions helped us deliver in record time! The solution has our customers and employees raving about the speed and sleekness of service.
We needed an integration partner that understood our complex security and usability requirements – PHD Solutions delivered on every front.
PHD Solutions changes the way we do business
The Client Challenge
Voortman's distributors were already equipped with a legacy mobile solution deployed on outdated ruggedized hand-held devices. Finding devices to replace those that were dying in the field was becoming difficult and expensive. The legacy software, built on the Windows Mobile operating system, also lacked many features available with newer smartphone technology.
While the legacy software was mature and stable, it was built on the Windows Mobile operating system. This platform was designed in an era before consumer smartphones became mainstream and as such the overall user experience lacks many features that users now expect in a mobile software solution.
Voortman found themselves faced with the difficult challenge of replacing this mission-critical solution to a modern platform, on modern devices. They required a seamless transition from legacy to a new platform, carefully architected to plug into existing infrastructure and allow for side-by-side operation with the legacy system, to avoid a costly system outage.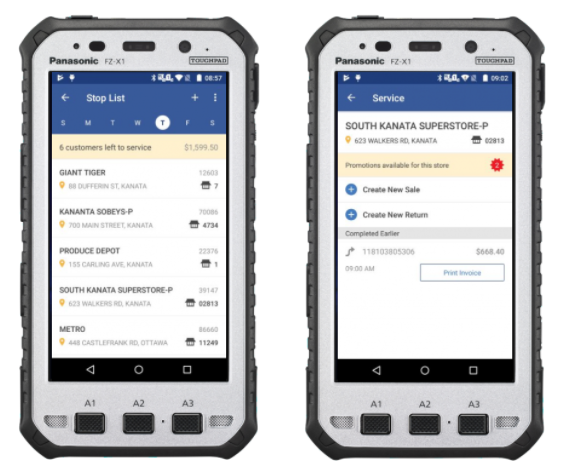 The Idea
Voortman selected the Panasonic Toughpad FZ-X1 to replace their older ruggedized hand-held devices. The Toughpad FZ-X1 runs on the Android operating system, has wifi, cellular, and bluetooth connectivity, barcode scanning capability, and is capable of interfacing with DEX storefronts
PHD Solutions Inc. was selected to provide the software solution due to their extensive experience in developing enterprise-grade mobility solutions for the DSD and Logistics industries. Voortman Bakery tasked PHD Solutions to build a bespoke product from conception to reality in under 5 months.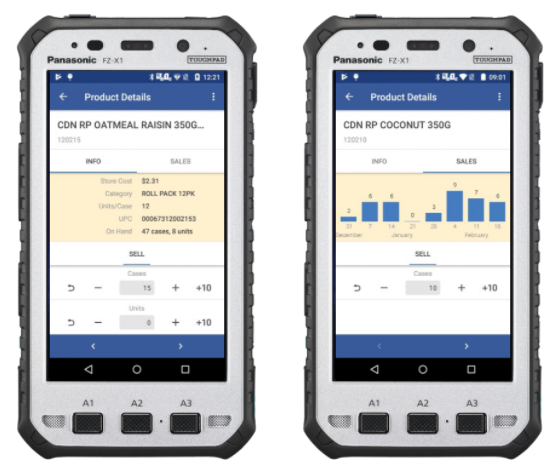 The Technical Challenge
PHD Solutions Inc. set out to design a solution that complements the end user's daily activity without adding unnecessary friction while adding value to both the end user and corporate stakeholders.
We set the following plan in place to meet these challenges:
Distill complex business requirements down to a set of functional application workflows that minimized user interaction and streamlined the process

Design a visual styling that was immediately intuitive, attractive, and happily adopted by the end user, knowing that:

A happy user is far more likely to embrace the transition from the familiar legacy solution to a new, unfamiliar one
The cost to onboard and train users on a system they find immediately intuitive is far less than if the users are presented with something foreign to them
An intuitive UI results in less pressure on the support team in dealing with user issues

Constructing a stable mobile application for tracking orders, sales, inventory and financial information

Creating a new, scalable API on the server side to communicate with Voortman's internal back office servers

Architecting an intelligent solution for reading and writing data into Voortman's central servers in exactly the same formats as the legacy system to ensure backwards compatibility
The Solution
PHD Solutions followed their finely tuned process to craft the architecture and develop some of the mission critical systems. The application requirements necessitated construction of a fully native solution built specifically for Android, the right choice for sophisticated applications. An impressive UI/UX concept was crafted by our talented design resources, and we set to work on implementing the complete feature set of the legacy solution.
PHD Solutions Inc. leveraged its pre-existing libraries of mobile solution building blocks – components that have been carefully architected and improved based on real-world usage – as the solution scaffolding.
Over the course of 4 months, our team dedicated themselves to:
Implementing approximately 80 screens and user flows in the Android environment

Completely replacing the client/server synchronization system with a brand-new API built using current industry best practices for scalability and security

Designing and building a dynamic reporting system capable of creating data-bound reports in real time for printing on wireless thermal printers

Re-architecting the business logic & persistent storage layers and porting all business logic from the legacy system to the new Android platform with complete regression testing to ensure everything would perform to spec

Creating a store-and-forward communication system which would allow for online-offline operation, allowing the application to work regardless of network availability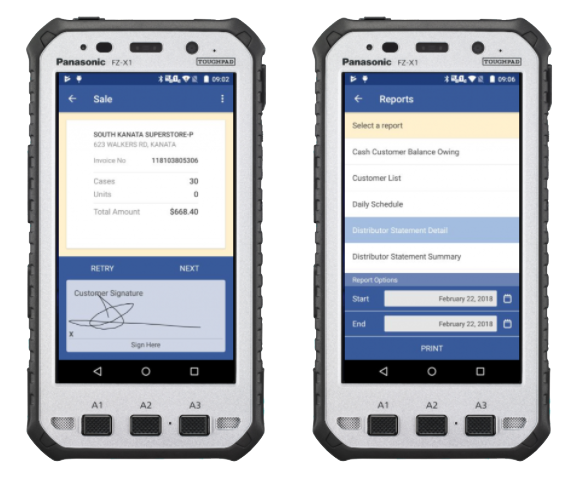 The Results
Despite the complex project requirements, the solution was delivered on time and budget with full functionality. Project construction commenced in early August 2017 and was feature complete by November 30, 2017
The solution was extremely well received by the Voortman project stakeholders and end users alike. As a direct result of increased system intuitiveness, responsiveness and data throughput performance, users are able to focus less on their mobile devices and more on the things that matter to them, like maintaining client relationships.
Notable improvements delivered by our solution include:
A significant increase in overall application responsiveness, resulting in a very positive user experience

Common, mission-critical tasks such as invoice creation and order creation being performed in less than half the time

A brand-new store-and-forward messaging system that allowed back office staff to be notified of invoices and orders in near-real-time, rather than waiting for the distributors to cradle and synchronize their devices

13x faster faster execution of Client/Server synchronization sessions that greatly reduced the resource load on Voortman back office systems and increased productivity for downstream activities
The Future
PHD Solutions Inc. seeks lasting client partnerships, and we have found one in Voortman Bakery. We are excited to continue to serve Voortmans's solution development needs now and into the future.
More Info
Interested in hearing more about how we can help your business realize operational efficiencies by mobilizing your field staff? Contact us today at info@phdsolutions.ca. We look forward to hearing from you!
PHD SOLUTIONS CREATES CUSTOM INTELLIGENT SOFTWARE SOLUTIONS.
Let's chat about your project.