PROCESS
Intelligent Software Solutions
delivered through a proven process for success
by experienced software professionals
PHD Solutions has adopted a hybrid software approach to deliver a more compact, client-friendly, and proven solution for intelligent software solutions.
Our process combines the best of the results-driven agile process with the proven aspects of a traditional waterfall approach.
Beginning with a thorough understanding of our client's needs, a clear plan is formed in partnership with our client. Throughout each phase of development, open communication and critical checkpoints are used to avoid costly rewrites, band-aid solutions, awkward usability, frustration, and time delays.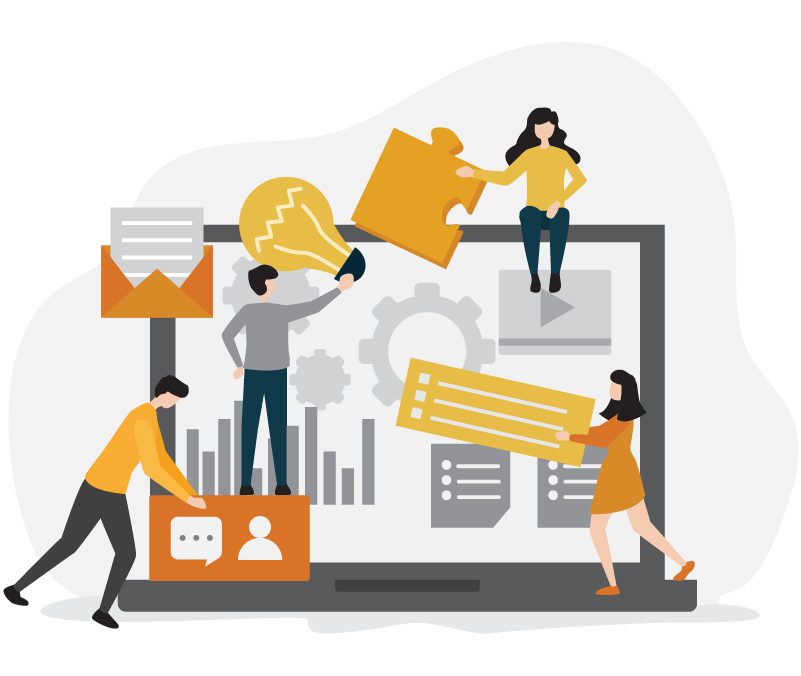 Our process includes the following steps:
Understand first, then be understood.
First things first: The goal of this stage is to acquire and document a clear understanding of your business problem. How is your business unique? What are your competitive advantages and business goals for the future? Creating a solution that's ready to adapt when you are will eliminate anticipated future challenges. PHD Solutions will meet with your key stakeholders and gather the information needed to architect an intelligent solution for your business challenge.
Envision the Solution.
In this step, we draw upon our extensive expertise to design and propose a high-level solution. At this stage we define the functional, non-functional and technical requirements necessary to meet your business objectives. The proposal will include descriptions of the features to be developed complete with wireframe drawings to help you envision the solution.
Build the Solution.
This is where our team of experienced, professional developers get busy constructing the solution for your needs. Milestones are set throughout this phase to maintain regular client communication. Wherever possible, elements of the solution will be delivered for client testing and feedback.
Launch the Solution.
Once the development and testing has been successfully completed, PHD Solutions will work alongside your team to ensure a seamless rollout and integration of the software, offering indefinite support to safeguard your solution's performance.
For further understanding, here are descriptions of the traditional software development approaches:
The waterfall methodology is designed to break a project down into a series of well-defined, sequential phases. Each phase is completed before moving on to the next. A successful solution designed using the waterfall method requires extensive upfront planning and execution discipline since introducing changes or adjustments to completed phases can be difficult and costly. The waterfall development model for software development originated in the early days of the industry and many concepts were borrowed from the manufacturing and construction industries.
Although considered outdated by some, the waterfall approach can be applied to software projects with excellent results, particularly when executing on projects where the objectives, scope and technology requirements are reasonably well defined from the outset.
Over time, the software industry grew exponentially and the scope, scale and resources required grew with it. Recognizing that that traditional Waterfall methodology was not appropriate for every project, experts started looking for and experimenting with different approaches to software development.
In 2001, a group of industry experts got together and penned a document known as the The Agile Manifesto which describes the 12 Principles of Agile Software.
The Agile methodology introduced an incremental approach to software development. It focuses on principles rather than process. This methodology seeks continual evaluation by working in smaller modules and allowing for bug fixes and customer feedback throughout a project.
At PHD Solutions, many of the principles of Agile Software are inherent in our culture and project cadence. We recognize that, when applied properly, an Agile approach can produce an end project that is highly polished and focused. The Agile approach works well on projects containing elements that are nebulous or unclear from the start but are clarified throughout the project. Projects designed using Agile tend to have less cost-certainty and, at times, larger delivery windows as the effort required to complete them is often not known at the outset.
Client Resources
admin
Successful software projects can boost productivity and profitability and enhance our personal and work lives. But regrettably, not all [...]
admin
In our modern world, there seems to be a technological solution for virtually every challenge we face. For a [...]
admin
Investing in a custom software solution can require a significant investment. Measuring the effect the software will have on [...]
We partnered closely with PHD Solutions to design and develop our innovative and industry leading software that supports our entire operations. They have delivered an excellent, robust, and stable platform used daily by hundreds of our employees and clients.
We needed an integration partner that understood our complex security and usability requirements – PHD Solutions delivered on every front.
With razor thin margins, we needed razor sharp software partners
PHD Solutions changes the way we do business
PHD delivered everything they said they would
When we needed a solution to help be first to market with our product – PHD Solutions helped us deliver in record time! The solution has our customers and employees raving about the speed and sleekness of service.
PHD SOLUTIONS CREATES CUSTOM INTELLIGENT SOFTWARE SOLUTIONS.
Let's chat about your project.